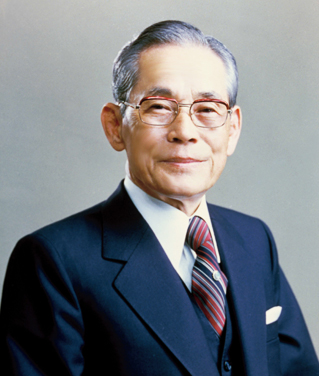 "Perhaps the greatest happiness in the world comes from realizing one's purpose in life. I have been fortunate enough to dedicate my entire life to business and resolutely dedicate my efforts to patriotic entrepreneurial endeavors." - from My Managerial Philosophy, Nov. 1976
Ho-Am Byung-chull Lee was born in Uiryeong County, South Gyeongsang Province, in 1910. He began his illustrious business career with his founding of the Samsung Trading Company in Daegu, 1938 and went on to make a major contribution to national economic growth through the successive founding of a large number of additional businesses, including Samsung Electronics. He founded and served as first chairman of the Federation of Korean Industries in 1961.
In 1965, He established the Samsung Culture Foundation to promote a broad range of programs to enrich Korean cultural life. In 1980, He forged into the world of semiconductors, thereby establishing a solid foundation for development of advanced industries in Korea.
As a pioneer of modern entrepreneurship and as a beacon of national economic development, the late Chairman Lee continues to influence Korean economic growth even today. He has left a legacy through his steadfast adherence to such philosophical principles as patriotic industrial service, human resources development, and rationalization of operations, and he has bequeathed to society major lessons through his managerial prowess in many business fields and through adherence to actualization of his philosophies.